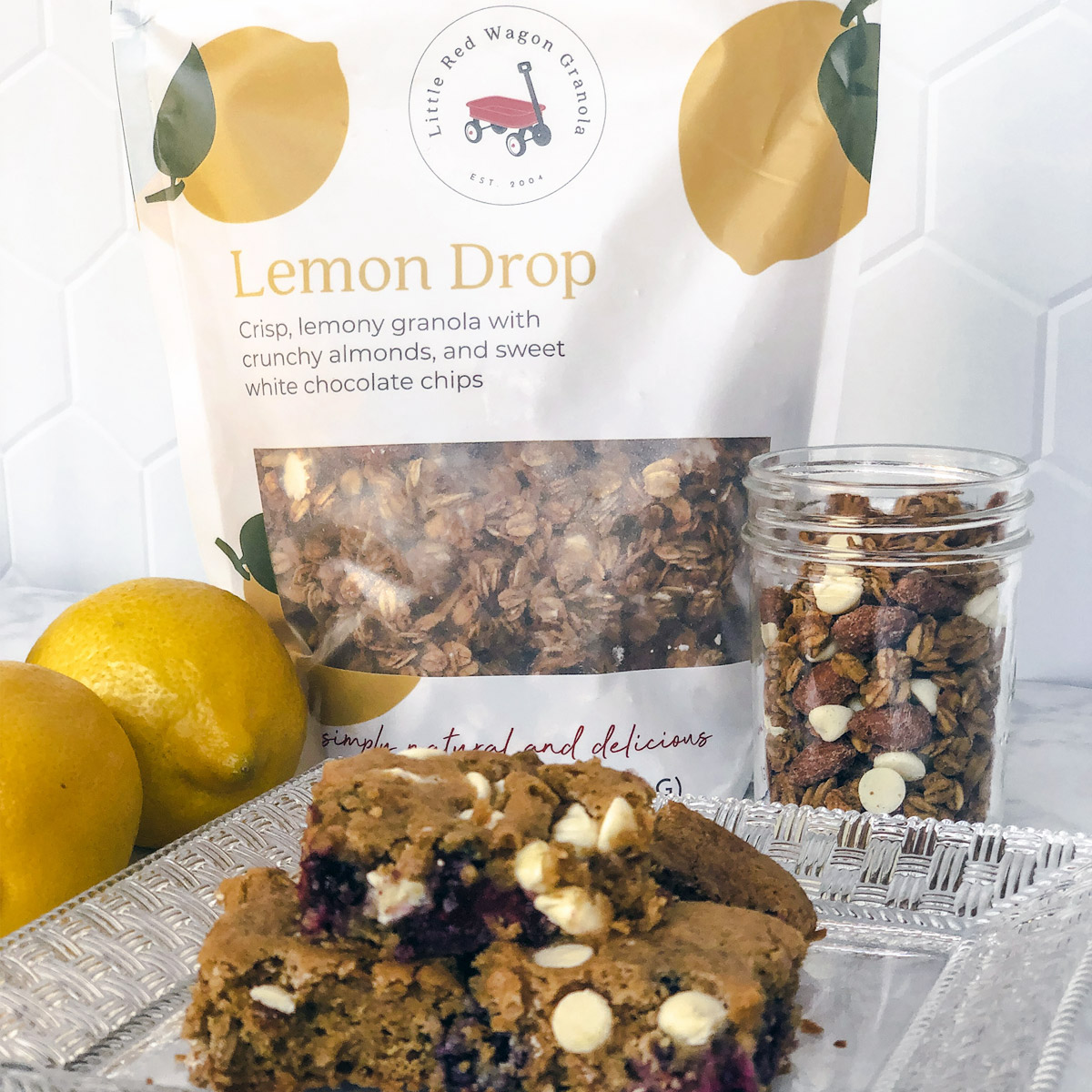 Blackberry-Lemon Granola Cookie Bars
Summer is almost upon us and, with it, comes warmer weather and more sunshine. Our Lemon Drop granola makes a great summertime treat on its own. But sometimes your sweet tooth just craves a little bit more. We took the lemon and white chocolate combo one step further by combining it with one of our other favorite summer foods…berries! Our blackberry-lemon granola cookie bars combine the trifecta of summer flavors with blackberry, lemon, and white chocolate. They are a little slice of heaven in a bar. Give it a try!
Ingredients
1/2 cup butter, softened

1 cup brown sugar

1 tablespoon fresh lemon juice

2 eggs

2 teaspoons vanilla extract

one lemon juiced and zested

1 1/2 cups all-purpose flour

1 teaspoon baking powder

1/2 teaspoon salt

1 teaspoon baking soda

1 cup Lemon Drop granola

6 oz blackberries

1/3 cup white chocolate chips
Directions
Preheat oven to 350 degrees Fahrenheit.

In a stand mixer, or with an electric hand mixer, cream together butter and brown sugar. Add lemon juice, lemon zest, eggs, and vanilla and beat until smooth.

In a medium bowl, whisk together flour, baking powder, baking soda, and salt. Add dry ingredients to wet ingredients in thirds and beat until combined.

Fold in granola and blackberries.

Line a 9×13 baking pan with parchment paper. Use a rubber or silicone spatula to spread the mixture into the bottom of the prepared baking dish.

Sprinkle the white chocolate chips on top.

Bake for 20-25 minutes. If you want more of a gooey bar, bake until it is just turning golden around the edges. If you want more of a cookie texture, bake for the entire time or until it is more golden.

Allow to cool for 15 minutes. Lift entire parchment paper layer onto cutting board and cut into bars.

Enjoy!
These delicious granola cookie bars can also be frozen to be enjoyed for future snacking!