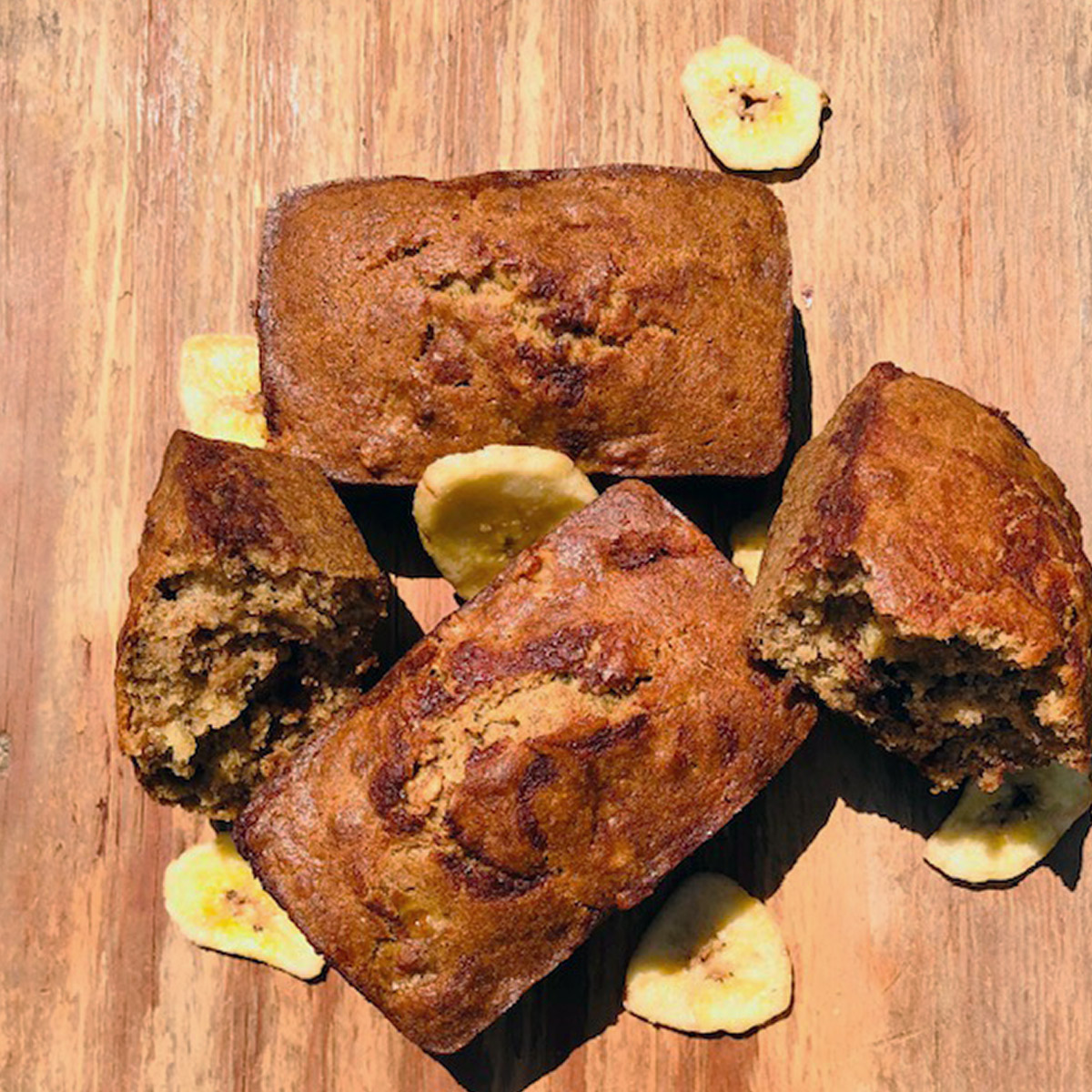 Cinnamon Swirl Banana Bread
We hope September has brought you cooler weather and you are getting to enjoy the beauty of fall! I love to spend more time baking as the weather starts to cool down. Banana bread is a favorite in our house, and our cinnamon swirl banana bread recipe will fill your home with wonderful cinnamon and maple aromas. Try it on a beautiful fall day!
Ingredients
Banana Bread Batter
1 cup (2 sticks) butter, melted

1 cup brown sugar

2 eggs

1 teaspoon vanilla extract

2 cups whole wheat or all-purpose flour

1 teaspoon baking soda

4 very ripe bananas

3 tablespoons maple syrup

1 pinch salt

1 cup Crunchy Monkey granola
Cinnamon swirl
2 tablespoons maple syrup

2 tablespoons brown sugar

2 tablespoons melted butter

3 tablespoons cinnamon
yield: 1 9×5 loaf pan or 14 mini loaves.
Instructions:
In a medium bowl, melt butter.

Once melted add sugar, cinnamon, 3 tablespoons maple syrup, and mix until combined.

Add in ripe bananas, vanilla, salt, baking soda, and eggs.

Mash bananas into wet mixture and mix until well combined. Use a hand mixer if needed.

Add in the flour and mix only until a batter forms.

Add in granola last as a garnish. Use your hands to break up bigger chunks as needed.

Spray your loaf pan with canola oil or use melted butter.

Add your batter halfway up the pan and then swirl in the cinnamon swirl mixture with a toothpick or plastic straw to ensure every bite in the center will get some.

Add in the rest of your batter and swirl the top with more cinnamon swirl batter.

Bake at 350°F for 15-20 minutes in a standard 9×5 loaf pan. For mini loaves or mini muffins, bake for 10-15 minutes. Bake until a toothpick comes out clean in the center of the loaf.
Enjoy a slice of your cinnamon swirl banana bread with homemade whip cream on top and a warm drink of choice!