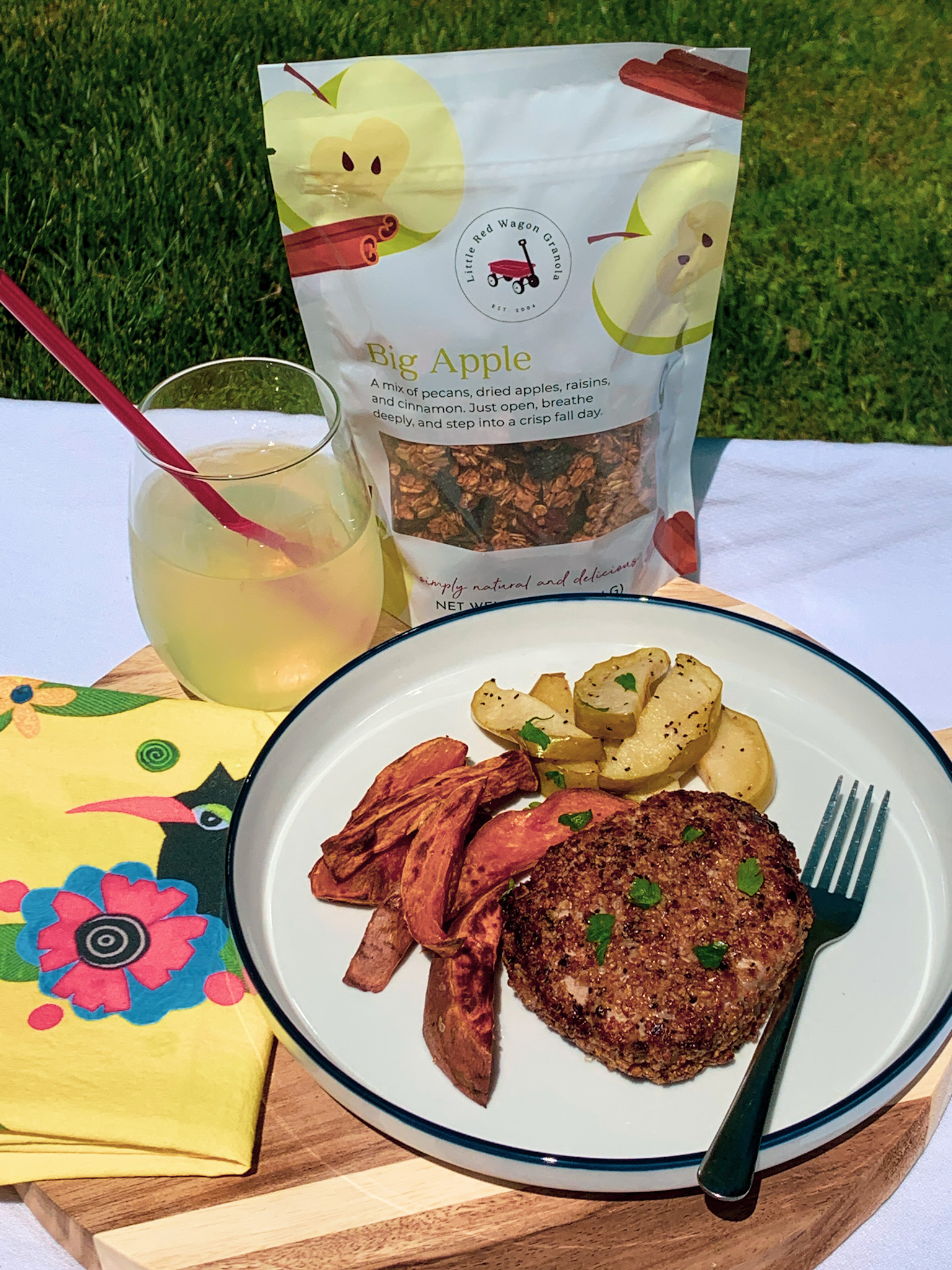 Big Apple Granola Crusted Pork Chops
Summer is synonymous with firing up the grill. While burgers and hotdogs may dominate the grilling scene, why not switch things up this grilling season? Say hello to our Big Apple Granola Crusted Pork Chops. They are a fusion of sweet and savory flavors that will elevate your summer grilling game to new heights.
Granola, typically associated with breakfast or snacking, may not seem like an obvious choice for grilling. However, when used as a crust for pork chops, it adds a delightful crunch and a subtle sweetness that perfectly complements a juicy pork chop. The combination of savory pork and the wholesome goodness of granola creates a harmonious blend of flavors and textures that will delight your taste buds.
And, of course, no one wants to toil away in the kitchen prepping food in the summer. These pork chops come together quickly and are easy to prepare on the grill. This summer, think beyond traditional grilling fare and let our granola-crusted pork chops bring a unique twist to your cookouts or barbeques.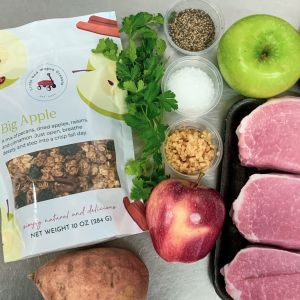 Ingredients:
Instructions:
Pat pork chops with a paper towel so they are dry on all sides.

Divide yogurt in half and coat each pork chop with yogurt on all sides.

Add granola to a food processor and blend until fine crumble forms. Transfer the crumble mixture to a plate.

Add garlic, salt, and pepper to the granola crumble plate. Stir to combine the mixture creating a rub on your pork chops.

Place yogurt-covered pork chops on the crumble mixture and coat all sides of each pork chop evenly with the granola rub. Lightly press the rub into the meat.

Cook pork chops on a grill heated to medium-high heat with oiled grates to prevent sticking. (Alternatively, you can sear in a pan on the stove over medium heat.)

Make sure the internal temperature of your pork chop reaches at least 145 degrees which is about 4-6 minutes on each side.

Allow the pork chop to rest for at least 3 minutes before serving to allow the juices to redistribute.

Enjoy with a glass of pinot noir or chilled chardonnay!
Let LRWG's Granola Crusted Pork Chops Inspire More Sweet and Savory Combos
Savory or salty flavors tend to make sweet notes sing and vice versa- so don't be afraid to experiment with unlikely food combinations! Our online shop has a variety of Little Red Wagon Granola flavors that are great to add to salads and grilled dishes. Interested in becoming a wholesale granola partner? Spread the LRWG love to your community by applying online. Bon Appétite!