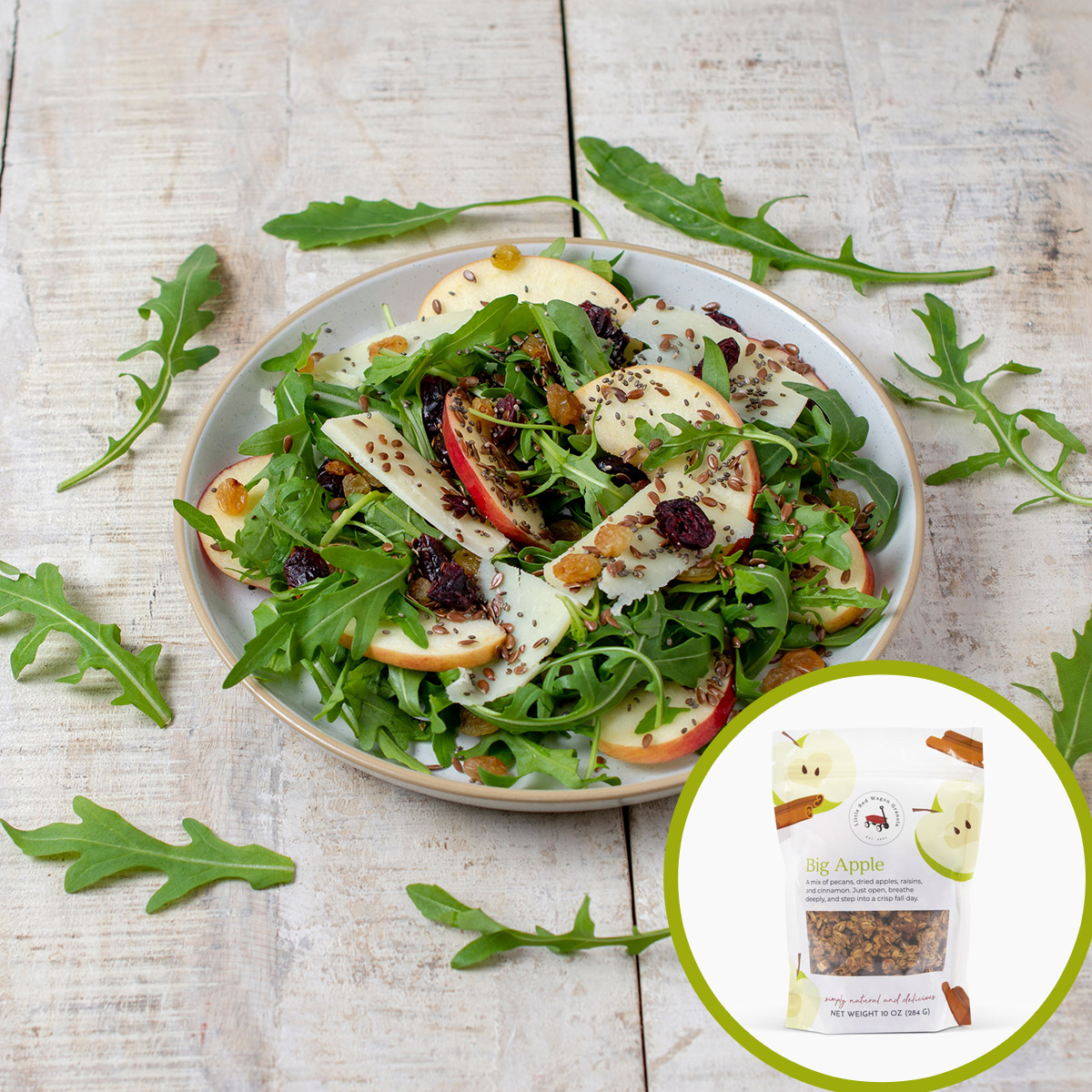 Get The Freshest Take on Apple Cinnamon Granola With Little Red Wagon
If we had to guess America's favorite fruit, the apple would be a top contender. The balance of crispness and sweetness make it a perfect snack staple or star ingredient anytime of the day or year. Our Big Apple Granola, plays homage to the all american fruit and brings together the delicious flavor of apple with comforting notes of cinnamon.
Why We Call It "Big" Apple Cinnamon Granola
Some may think of New York City when they hear "Big Apple", but we think apples are a star in their own right! To ensure our take on this classic flavor hit all the right notes, we mixed both dried apple chunks and unsweetened applesauce. Pecans add a nutty crunch, raisins a delicious chewiness, and cinnamon a subtle warmth that ties it all together.
Although our Big Apple Granola is a winter seasonal, it's so popular we make it year round, so you never have to miss out!
Ways To Enjoy Our Apple Cinnamon Granola
We love adding granola to yogurt as much as the next person, but why not shake up your routine with some of the following combinations?
Crumble and sprinkle on top of a berry compote for an easy topping.

Add to an arugula salad for a sweet crunch and extra fiber.

Layer it on fresh apple rings with peanut butter for a sweet and savory snack.

Mix with walnuts and puffed brown rice for a hearty trail mix.
The versatility of apple cinnamon granola makes it a great choice for families with a wide variety of palettes. Even the pickiest eaters seem to
An Apple (Granola) A Day Keeps The Doctor Away
Don't let the indulgent taste fool you; there's nothing to feel guilty about when eating Big Apple Granola. It's packed with nutritious ingredients that fuel your body. Complex carbohydrates plus six grams of protein and five grams of fiber will keep you full and provide sustained energy for your busy day. Plus, potassium, calcium, and iron will support your muscles and bones.
Stock Up On Little Red Wagon Granola Today!
Hungry for more? At Little Red Wagon, we handmake our granola with fresh, natural ingredients. Find flavors like Big Apple and more available online or in a store near you!