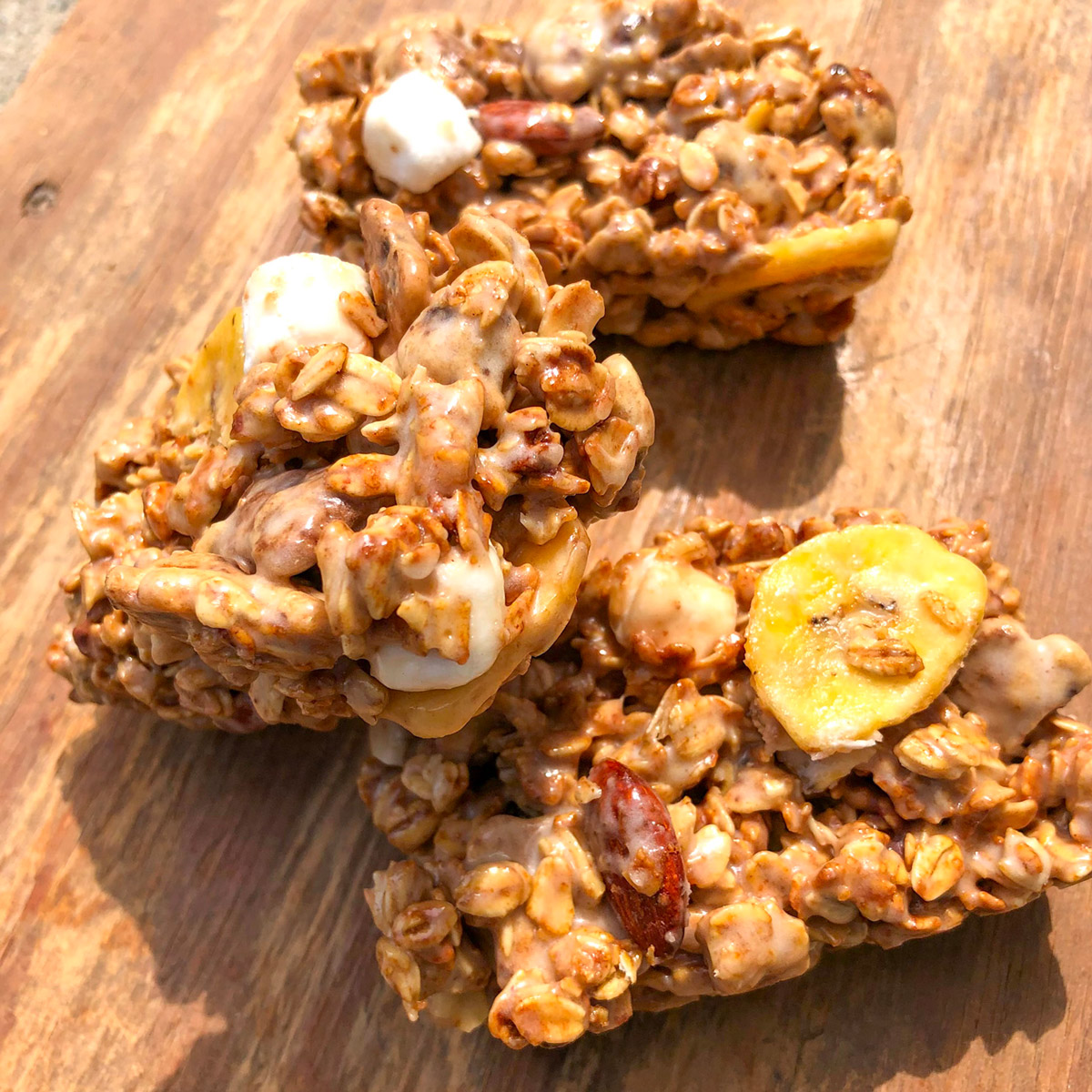 S'mores Monkey Bars
We hope you all had a wonderful 4th of July and are enjoying your summer! Summer is a great time to break away from the day-to-day, relax, and spend time with family and friends. What better way to spend time with friends or family this summer than a cookout or backyard barbeque? S'mores and Rice Krispie treats are quintessential treats for summer gatherings. Our S'mores monkey bars blend the best of all worlds into a delicious afternoon snack or after-dinner dessert. So when you are looking for a special treat, try our s'mores monkey bars!
Ingredients:
1 10oz bag mini marshmallows

5 cups Crunchy Monkey Granola

1 cup Teddy Grahams or crumbled graham crackers

1 tsp kosher salt

1/3 cup butter

1 tsp vanilla

Parchment paper
Instructions:
Line a 8.5"x 8.5" baking pan with parchment paper, butter the parchment paper, and set aside.

Crush the Crunchy Monkey Granola lightly with a rolling pin.

Mix crushed granola, Teddy Grahams or graham crackers, 1 cup mini marshmallows, salt and vanilla in a medium bowl.

In a large pot, heat butter over medium heat.

As the butter melts, add in the rest of the marshmallows and stir with a wooden spoon until the marshmallows are completely melted.

Remove from heat and pour the granola mix into the melted butter and marshmallows.

Blend quickly using a rubber spatula or wooden spoon until the mixture is evenly incorporated.

Spread mixture into the greased 8.5 x 8.5 pan and use parchment or a flat spatula to lightly press the mixture evenly into the pan.

Allow mixture to set for approximately 15 minutes. Lift out parchment paper and cut into squares.

Enjoy and s

tore leftover s'mores monkey bars in an air-tight container at room temperature.