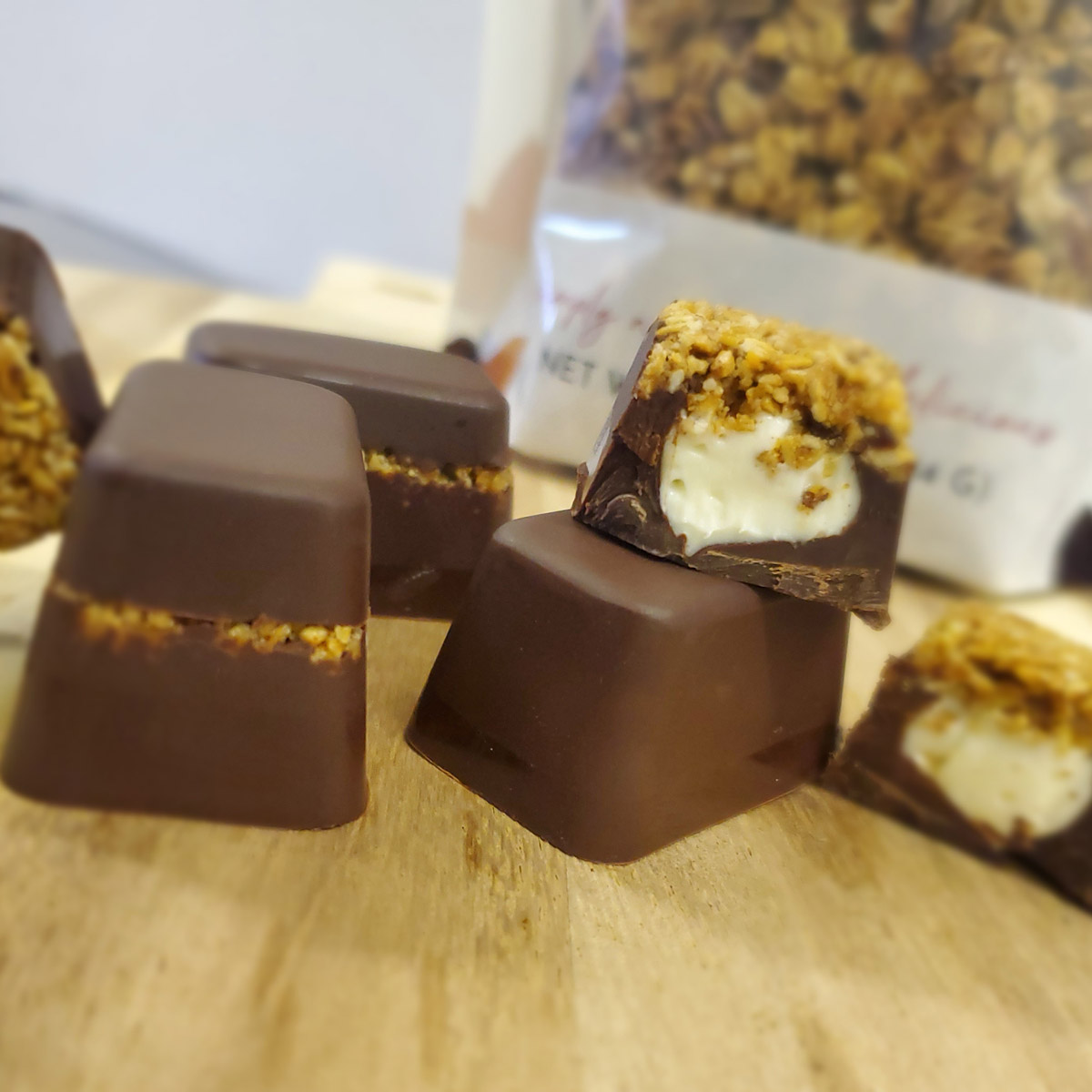 No-Bake Cheesecake Bites With Granola
These Valentine's Day treats deserve all the praise. They are bite-sized and packed with phytonutrients like flavonoids from dark chocolate (great for brain and heart health). So indulge with confidence and share with close friends, family, or a special loved one. These no-bake cheesecake bites are small, rich, and nutritious: a trio of absolute perfection!
Ingredients
Cheesecake filling
8 oz block of cream cheese ( at room temperature)
1/2 cup powdered sugar
1 teaspoon vanilla extract
Crust
1 1/2 cups of Original granola
1 tablespoon melted coconut oil
Chocolate Coating
2 cups dark chocolate chips
1/2 tsp of coconut oil
Ice tray or silicone mold
Instructions
Microwave the dark chocolate chips and coconut oil in a medium bowl for 30 seconds. Stir and microwave again for 30 seconds until just melted.

Pour about a teaspoon of the melted chocolate into each ice cube mold. Use your fingers or a spoon to cover the sides of the mold completely. Save the remaining chocolate mixture and freeze the ice tray until the chocolate is solid (about 10 minutes).

In a medium bowl, combine cream cheese and vanilla and beat with a hand mixer until smooth. Add powdered sugar and mix until incorporated. Set aside.

Using a food processor, pulse granola until a crumb consistency is reached. Add melted coconut oil and mix to incorporate.

Fill ice tray cubes with a thin layer of granola crumb mixture, add the Cheesecake mix, and top with chocolate. Keep the ice tray in the fridge until the chocolate hardens.

Enjoy!