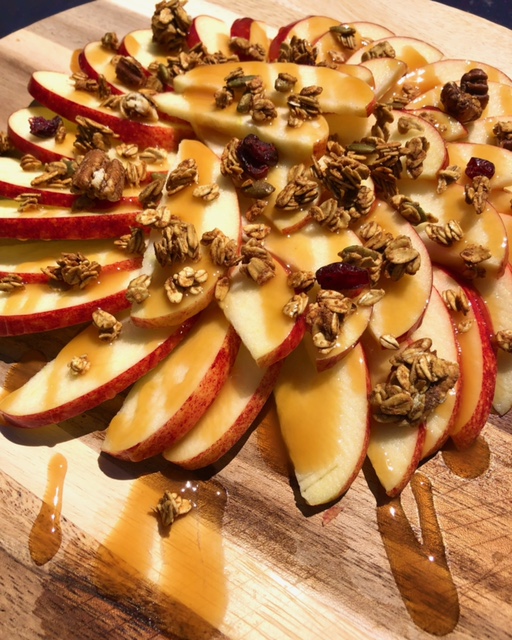 Pumpkin Caramel Apple Nachos
It's officially fall! We hope you are enjoying some beautiful fall foliage and tasting the bounty of the season's crops. Whether you like carving pumpkins, scary movies, or fun Halloween costumes, make the most of October with a fun snack. Try our pumpkin caramel apple slices, arranged like nachos! They are a great blend of the season's flavors and make a fun party snack or dessert.
Ingredients:
4 tablespoons butter
1 teaspoon vanilla extract
1 teaspoon sea salt flakes
2/3 cup heavy cream
1/2 pumpkin puree
1/2 teaspoon pumpkin pie spice
1 cup granulated sugar
½ cup water
½ cup Pumpkin Patch granola
2-3 apples sliced
Instructions:
1. In a medium heat-safe bowl, place butter, vanilla, and sea salt. Set aside.
2. In a small pot, pour heavy cream and add pumpkin pie spice and pumpkin puree.
3. Heat on low, whisking slowly.
4. In a medium pot, add 1 cup sugar to 1/2 cup water and mix until well incorporated.
5. Warm the sugar mixture on medium heat until the sugar becomes golden brown.
6. Once sugar is a dark golden caramel shade, slowly add the warm heavy cream mixture.
7. This will instantly bubble up. Whisk in the heavy cream as you pour.
8. Cook on low, continuously stirring with a silicone spatula. The caramel will thicken with time.
9. After 5 minutes of additional low cooking, pour this mixture into your bowl with butter, vanilla, and sea salt.
10. Whisk together till combined. If there are any sugar lumps, strain out the lumps while the mixture is thin and hot, and then allow the sauce to cool.
11. Once the caramel is at room temperature, transfer it into a sealable container and refrigerate. Allow the sauce to cool in the fridge for a few hours to 24 hours.
12. When ready to serve, slice apples and fan them out onto a decorative board or plate.
13. Drizzle pumpkin caramel sauce and top with pumpkin granola.
14. Serve immediately and enjoy!